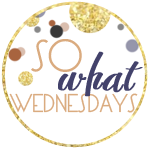 So What..........
I'm leaving work early on Friday for a quick appointment (that will take like 15 mins.) and then I'm going to get my nails did and pick out an outfit for our football party on Saturday
So What...........
I'm still second guessing the date for G's birthday party. I really need to get over it because I already ordered the invitations and booked a venue.

So What.............
I got the proof back for G's party and I'm in LOVE. I will post it once they have all been handed out!
So What..............
I forgot a load of laundry in the washer, washed and didn't realize it until I was looking for a specific shirt then it was all light bulb moment and then cuss like a sailor moment after that
So What.............
Every night I crave and dream about something chocolate. So far I have only caved once when we were at a birthday party and had a small piece of cookie cake
So What...........
I already spent all of our grocery budget for the month and we still have over a week to go. Looks like its an eat out of the stock pile / freezer kind of month.
So What.............
I'm obsessing about the 1st birthday party details. Everything! Must! BE! PERFECT! I think I yelled that at my husband the other night when he said he didn't care what invitaion we sent out. Oh the pressure.