Getting down with some So What! today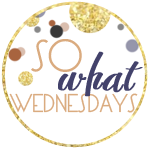 So What.......
I seriously thought about calling in to work today and then I realized it was Wednesday and that there was no way I could (i.e. no one would get paid)
I have no idea what we are eating for dinner tonight, probably brown rice and veggies because I know we have those in the house
A pizza sounds way better
I did an at home gel nail kit last night and I hate my nails
I'm going to get my nails done at the salon either today or Friday
I'm counting down the days to our annual football party. It is the best time and I'm ready for some adult time
I still wear my maternity t-shirts. I love how long they are and you cannot tell that they are maternity
It's only 7:30 and I'm counting down the seconds until it's 3:30 and I can get out of here I need some home time with my boys
Happy Wednesday!