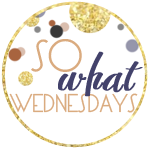 So What
I'm a zombie today and will probably not be very productive at work aside from my usual duties. I coughed my brains out last night and got maybe 5 hours of sleep. At least I still showed up right?

So What
My cupboards look like Mother Hubbard's as in no food. I have been busy and shopping has fallen on the wayside.

So What
I have eaten soup for lunch the past two days and that is what I'm eating again today (see previous line)
So What
If I'm going shopping on Saturday with my Mom and I'm dying to buy some new decor for the house. That my friends = disaster to my budget

So What
If Grayson has 2 Halloween costumes. His real costume has a hood on it and therefore he cannot wear it to daycare because of the whole napping thing so we had to get him a 2nd. It's really just PJ's that look like a costume (the batman ones) and my mom bought them so I'm not that crazy.

So What
If the only person in my "real" life that knows about his blog is my Husband.

So What
If I have slacked on my food choices and working out lately. November 1st my hubby and I both are starting the 30 day shred for real this time.

So What
If I'm day dreaming about my bed. It's cold out my bed is warm and I'm tired!!!