ONE
This weekend is filled with nothing but fall / Halloween goodness
The only thing on the books is Carving pumpkins and making candy corn shaped cookies!
TWO
I'm thankful for take out because without it we would have starved. With G being sick this week and running to the doctors like it's our job we ate out 3 nights so far

THREE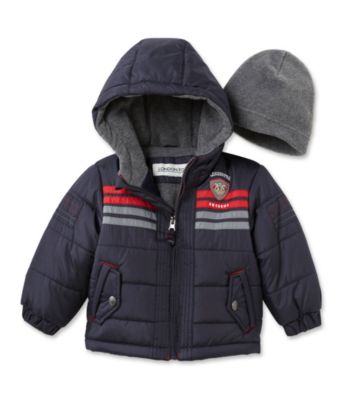 This is the jacket that we just picked up the Grayson yesterday. It has been in the 30's in the morning so a winter coat was in dire need. Thank goodness Bon-Ton had a kick ass sale going on and we got a $70.00 coat for $22.00
FOUR
Our tree died two years ago. I got it for cheep the day after Christmas sale and well one section of lights stopped working so we threw it out his year during our organize the attic day. We didn't even set it up last year because we thought we would be moving around Christmas time. Anyway I'm in love with this tree. However the price well maybe out of the budget that my Hubby gives me so I will adjust. Hopefully we will be ordering in the next few weeks to have it in time for our decorating!
FIVE
This picture of me and my babe. It's a nightly scene at our house bed time
kisses! Thanks to my sissy for capturing this moment!