I'm saying So What today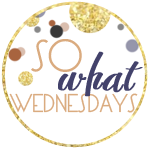 So What............
.....If still cry everytime I see someone else cry
....that if I didn't cook last night and we had cereal for dinner at least it was healthy cereal and not Fruit Loops.....yummmmm Fruit Loops
....If I'm leaving work early on Friday to go shopping for a new outfit for our night out on the town. My body is changing at a rapid pace and I want to look good for a night out with my man
....If I let Grayson talk in his crib for 30 mins so I could relax in bed a little bit longer. Some days I just need that extra time.
....I went out last night after our volleyball game and I was wearing yoga pants
....I'm nervous still every.single.time we go to the doctor's and G has to get shots. It breaks my heart when my baby boy has real tears (see first line and imagine the shit show that is us at the doctor's)
.....If I don't get all the rage that is PSL......I'm not a pumkin fan I much prefer a vanilla frap
.....I'm pinning wedding things on Pinterest like it is my JOB. I'm married and have been for 4 years however my friend is getting married and so I'm living through her.
.... I'm looking forward to baby free sleeping on Saturday night. I will miss my nugget but it's nice to sleep in once every 6 months