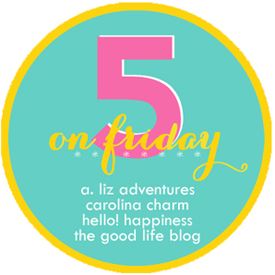 Happy Happy Friday everyone!!! I'm so ready for this holiday weekend!!! I'm linking up for the wonderful 5 on Friday!!!
One-
My nugget love went overnight to GiGi's house last night and I was sent this wonderful picture. Scrunchy nose close up pictures are my favorite. Also I love that Face time exists. Even though he was not home I still got my morning kisses.
Two-
Ice Cream!!! The ice creams stands are all open and since we were on a date last night my honey and I got ice cream for dessert!!!

Three-
It smells amazing and just reminds me of spring!!!
Four-
I need to find a dress for a wedding coming up in May. There are some really cute ones at
Target
looks like I will have to go shopping
Five-
It's Easter weekend. I'm excited for the Easter egg hunts and dressing G in his super cute
Easter outfit!
I can't wait to give him his first Easter "basket" and watch him do his first egg hunt and just be with family!
I hope everyone has an amazing Easter and wonderful weekend!!!!