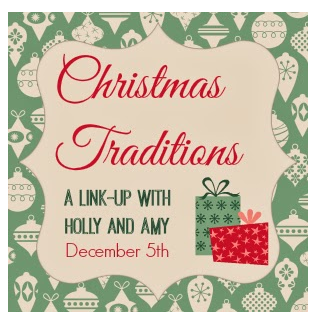 Linking up with
Holly
today for the Christmas Traditions
We always watch It's a Wonderful Life on Christmas Eve. We also throw the classics in like Rudolph, Frosty, and Christmas Vacation. I also by myself watch The Family Stone. It's sad but wonderful at the same time. I cry every time and I have seen it like 95232195 times.
We go to my Aunt and Uncles house on Christmas Eve. Pre- Grayson this was a drink fest. We would play Left Right Center (and make it a drinking game) with dolla bills. One year Michael and I both won and we walked out of there with $120.00. We have dinner and do a gift exchange where everyone brings a $25.00 gift and you draw numbers. #1 picks and then #2 can steal or pick a new gift. It was always a lot of booze and lottery tickets. It took us 2 hours one year because we had over 25 people. Then we drink our faces off and my mom drives us to my sister-in-law's parents house where we drink beer like it's going out of style and then she drives us home. Last year I was knocked up (which meant I was the DD boo) and this year we have Grayson so only one of us will be able to hop on the booze cruise we will take it to a vote and since I carried the baby I get two votes and I vote me!
Our new tradition we are starting since it's G's first Christmas is that we will open a present of new Christmas jimmy jams and a book and/or movie. This was my husband's idea and I love it!
We will be waking up and first thing we do is throw up brew coffee and pre-heat the oven for cinnamon rolls. Then we open gifts, while listening to Christmas music. I'm beyond excited to open gifts with Grayson for his first Christmas!!! I'm that weird mom and we have matchy jimmy jams. Then we eat our cinnamon rolls and pack up for my parents house. Once we get there we pop the champagne and have mimosa's open gifts by age which means Grayson goes first. My sister comes and my grandma and aunt and uncle. It's nice and low key. Then we get ready and make the most fantastic brunch ever. After that we head home nap and get ready for Michael's parents to come over for a steak dinner. We open gifts with them then eat and by that point I'm ready to pass out.
We always to a cookie day exchange. We each make 2 kinds cookies, my Aunt does the cut-out and frosting and we get together with the kids and decorate the cutouts and then we each go home with about 7 different kinds of cookies.
We always listen to the Disney 12 days of Christmas CD when we decorate the tree. And on Christmas morning at my parents we always listen to the classics's like Bing.
I always wear matching jimmy jams with someone. Before I was married I matched with my sister and now Michael and I match. I have done this since my sister was born and I love having new jams on Christmas.
A new random thing we are doing for Grayson this year is a Happy Birthday Jesus birthday cake.
We always do stockings first when we open presents. Everyone gets a stocking and it has the most random things in it. Like one year I got a brick of mozzarella cheese (and I ate it all that day yummy!).
Ok so since we have such a big family to cut down on travel the day of Christmas we have Christmas with my brother and his kids the Sunday before Christmas. We hire a Santa Clause! We just order food in so that no one has to cook and we eat our faces off. Then we open gifts with them and we get more quality time with the kids as opposed to an hour because they have like 5 stops to make. This year we are also doing Christmas with my father-in-law's side of the family the Saturday before Christmas. We have not been able to go for Christmas since the first year we were married because normally they do it on a day Michael has to work but this year it worked out. I'm excited to see everyone and his cousin has a baby a couple months younger than G so I'm going to snuggle on that baby because she is not mobile yet and will still let me.