1- Ok I already lied one is not Christmas related but I just have to point out the fact that I have a
9 month
old!!!! Where this past year has gone I will never know!
2-
This Sweater
I love this green color, I bought this to wear to Christmas eve, and bonus they had 25% off at my store!
3-
This Ornament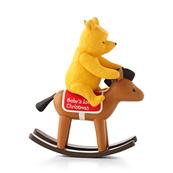 My Aunt gets the kids ornaments every year and this is G's first Christmas so she got him this one! My Uncle is a painter so he wrote Grayson on the bottom of the rocking horse and I just love it!!! I show it to him every night on the tree.
4-
This plate
I grabbed this little gem when I was out black Friday shopping like a mad woman. I love it and am so excited to put cookies out for Santa this year!!!
5- The fact that we are celebrating Grayson's first Christmas and I have two whole days off with my little family!
Now for some non- Christmas stuff. Grayson ended up at the doctor's again last night. He has pink eye in both eyes and a sinus infection. Ugh so we switched his antibiotic and he now has drops. Praying that he is in tip top shape for his first Christmas!
Merry Christmas everyone!!!