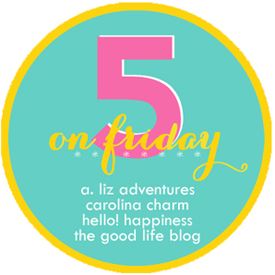 Let the link up begin with Darci!
One
Can we talk about Old Navy and how they rock my socks with the sweatshirt and long sleeve tees? I'm in love and ordered several of each! They are so comfy andthe long sleeve tees come in tall!
I don't meet Old Navy's "tall" requirements (5'10, I'm 5'7) but butt crack tall or small is never cute and these help cover any mishaps that might happen when bending over trying to put a winter coat on an 7 month old who decided now was the best time to plank.
Two
The fact that Turkey day also known as Thanksgiving is less than 2 weeks away!!! I love it and I can't wait to give Grayson some table food for the first time!
Three
I'm doing this this winter but can't for the life of me decide on a color!

Four
My mom got Grayson this hat and it is awesome. I personally love that it has a chin strap and with the wind we have been having I know his ears are protected! Plus he look adorable in it.

Five
I got my juicer and book and I can't wait to read it cover to cover and dive into the world of juicing!


Happy Friday everyone!!!!