For Grayson's 1st birthday I went with a mustache theme. It was cute but not babyish and I loved it. We used bright colors and had delicious food. I also had it at a private club and it was amazing.
But this year my kid has an opinion and I'm trying to pinch pennies.
So here is what I'm planning for the party that will be held at my house.
Let me say it again
AT MY HOUSE!!!!
This is causing my anxiety to rise just slightly but I think after making six lists to get things under control we are going to be okay. It's just that my house is small and we have 40 people invited. So yeah that's a lot but they are all family and there is no cutting that list down. I will make it work because hall rental is $125.00 and that is just not in my budget this year.
Onto the fun stuff
Our theme is
Mickey

Mouse

Clubhouse.
He asked for it.
I will make it cute and not crazy or cheesy looking
Here is my plan
INVITATIONS
Facebook. Last year I bought one of Etsy and then loaded my picture in it and then mailed them out and blah blah blah. I created a private event for Grayson's Birthday on Facebook and invited our family! Simple and done!
Super simple pizza and wings. I thought about getting all cute with Hot dogs and what not but really that's just way to time consuming when I have to deep clean my whole entire house so pizza and wings it is.It's cheaper I started to price out a hot dog bar and quickly it was higher than pizza and wings. I ordered the cake from the same place that did his cake last year. My family is all bringing an appetizer and so we will have plenty of food.
Beer, soda and water. In coolers on the front porch. One less thing that will have to be in the house and if you want something other than that BYOB.
Simple but festive is what I'm going for. I went on Oriental Trading and found some cute things
If you go on their site they have a whole
Mickey Mouse section
I ordered yellow plates for appetizers and red plates for dinner. Mickey mouse napkins.
A super cute sign that you can change out the age they are turning!
Plus I got some stickers for the gift bags and to make some cute signs for around the house.
I got Mickey Mouse plates for the cake from Target because they were cheaper plus they now have free shipping on $25!!!!
I grabbed some polka dot streamers and table cloths at wal-mart
This is the table look I'm going for
I'm doing fun simple gift bags for the kids (there are only 4 including G) and I grabbed a bunch of fun little things at the Target $ spot
OUTFITS
Okay I die over a theme and bought shirts for the 3 of us to wear for that day
Michael's
He had to be different and insisted on a Donald Duck shirt.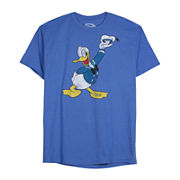 Mine
I ordered a men's t shirt in a small because I wanted Mickey that wasn't pink or super girly.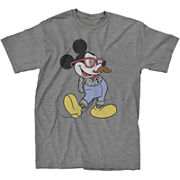 Grayson's
I didn't want a birthday shirt for him this year and so this one is perfect!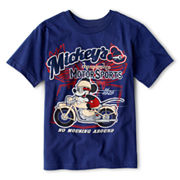 I got all three shirts for $25.00 that is my kind of price!
I have a few things I'm making. Meatballs (which are done in the crockpot) and some fun chocolate covered pretzels.
So that is my plan for the party. Less than a month away !!!